How teens are affected by cyberbullying in today's digital age?
According to a 2013 ABC News article, a teen was charged in a fatal cyberbullying case in which Rebecca Sedwick jumped from a silo tower after being cyber bullied by two teen girls. The article states that the two girls were arrested and charged with felony aggravated stalking. The police also state that Rebecca was allegedly tormented online by up to 15 girls. Before committing suicide , Rebecca attempted to start fresh at a new school but the tormenting continued, contributing to her to committing suicide.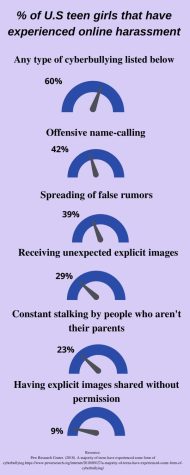 Research
According to a 2018 Pew Research report published, "59% of U.S. teens have been bullied or harassed online, and a similar share says it's a major problem for people their age." Cyber bullying is most common with young teens aged 13-17 through any form of app or messaging device. It can also become concerning when online harassment comes into play.
When it comes to gender, girls tend to have more of a difficult time and suffer more from cyber bullying especially in their teenage years. According to Pew Research, 39% of girls say that someone has spread false rumors about them online compared to the 26% of boys that say the same thing. When it comes to reporting issues such as online harassment and cyberbullying girls are more likely than boys are when they feel that they are a target, especially when it comes to explicit images that they did not ask to receive in text messages.
According to Cindy Price at Collegiate Parent, both women and men at universities are perpetrators, but college-aged women often bully in an attempt to climb the social ladder and maintain their social status and men usually to exert dominance over one another.
Similar to teenage females, college aged girls are also the main target when it comes to cyberbullying and online harassment.
How well are parents handling teenage cyber bullying?
According to a ReachOut.com article ,only around 1 in 10 young people inform a parent or a trusted adult of cyberbullying. Reasons include embarrassment, fear of not being believed, fear of having the issue downplayed or losing access to technology. Therefore it is evident that parents don't have as much control of the situation as they thought they did. In order to prevent this situation from happening with your child it is important to educate them on what they can do if they are ever in a cyberbullying situation, creating a better relationship to ensure if they approach you as a responsible parent of guardian for support if need be.
Find support with 3 Non-profits
The CyberSmile Foundation:
The CyberSmile Foundation is a "multi-award-winning non-profit organization committed to digital wellbeing and tackling all forms of bullying and abuse online." Through education, research and awareness this foundation promotes positive ways to use social media and online sources while reducing cyberbullying.
Stomp out Bullying:
STOMP Out Bullying is the "leading national anti-bullying and cyberbullying organization for kids and teens in the U.S. They are dedicated to changing the culture for all students. As an organization it works to reduce and prevent bullying, cyberbullying and other digital abuse along with educating against homophobia, LGBTQ+, discrimination, racism and hatred across the country."
StopBullying.gov:
StopBullying.gov is an organization and website that was set up by the United States Government for people to use as an informational source when dealing with online harassment and bullying. It talks about the federal laws along with what schools can do to help or what other kids can even do to help out with the situation such as telling an adult if you witness something like this happen to someone. It provides tips and resources along with an ample amount of information for teachers, parents and anyone who might be interested in becoming an "Upstander " someone who stands up against bullying both online and in person.
 This post is a part of an ongoing series examining violence against women. In this Digital Communications Capstone course, student produced content focuses on the specific topics of cyber bullying, sexual harassment in the workplace, sexual assault on college campuses, domestic abuse among women, and LGBTQ women.
As a mercy institution, Gwynedd Mercy University explores five critical concerns: Women, Nonviolence, Earth, Immigration, and Racism. This series focuses on the critical concerns of Women and Nonviolence.
Leave a Comment
Your donation will support the student journalists of Gwynedd Mercy University. Your contribution will allow us to purchase equipment and cover our annual website hosting costs.
About the Contributor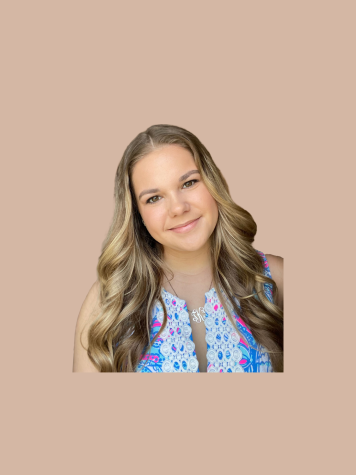 Tatiana S. Kushner, Content Producer
Tatiana Kushner is a Senior Digital Communications major at GMercyU. She is a member of Sigma Phi Sigma the National Honor Society and involved with Music...